A 16 week 'overland expedition' to Hornstrandir Peninsular in Iceland,
filming the Arctic Fox on location in the Arctic Circle.

Expedition Overview:
After spending 5 years teaching our university accredited SCQF 'Level 8' (HND) 'Diploma In Wildlife Documentary Film-Making' course; we have decided this year to take things up a level. After the last two years of everyone staying inside because of Covid; we are going to get out into the real world again, and undertake a 4 month 'overland filming expedition' to Iceland, where we/you will produce a documentary about the Arctic Foxes living there.
This course will run from: Monday 15th May 2023 to the Friday 1st September 2023.
During this time you will spend approximately 3 months on location in Iceland.
Route across Iceland:
Our journey will start in the UK and travel cross country through Europe to northern Denmark where we will board a ferry to the port of  'Saydisfjordur' on the far eastern coastline of Iceland. From there we will travel across the whole of southern Iceland to Reykjavik filming some of the fantastic landscapes as we go. After spending time in Reykjavik we will travel further north to the area of the Westfjords, where the highlight of our time in Iceland will be a week on the extremely remote Peninsular of Hornstrandir, filming Arctic Foxes with local guides and wildlife experts…
Filming in Iceland:
Filming Arctic Foxes in Iceland… if you're serious about filming wildlife in a remote location; you will not get much more remote than this.
The land of Fire & Ice is carved into the surface of the planet by millions of years of volcanic activity, some of which is still going on today. Famous for its utterly remote and striking landscapes, Iceland sits very high on many peoples 'must-do' lists; and the Hornstrandir Peninsular is a unique photographic highlight of Iceland due to its population of beautiful and mischievous Arctic Foxes.
By its very nature, sitting in the middle of the north, of the north Atlantic; Iceland is very remote. Further to this, the upper north western region of Iceland is called the Westfjords; and to the very north of Westfjords is the Hornstrandir Peninsular; which in itself is so remote it has no roads or footpaths onto it, and is only assessable by boat. We will set up our basecamp on the northern coastline of Hornstrandir, at the back of the beach in Hornvik Bay.
The only thing north of us will be sea ice and the North Pole !
There are no footpaths onto the Hornstrandir Peninsular, let alone any roads; and you need a special environmental permit to visit. This remote location is so far north that its actually the only part of Iceland that lies within the Arctic Circle. The peninsular itself is home to Icelands Arctic Fox and the whole of the Peninsular is a protected area. With very low levels of human interaction you will able to observe the Foxes in their natural habitat, at very close proximity, totally unaffected by your presence.
Due to the remoteness, fragility and scientific status of the area, we will be working with the logistical / guide company Borea Adventures. In turn, Borea have been working in Westfjords and Hornstrandir as local wildlife guides for many years, and are the logistical company of choose for the numerous visits by the BBC NHU to the area when filming Arctic Foxes – so your time in the area couldn't be spent in better hands.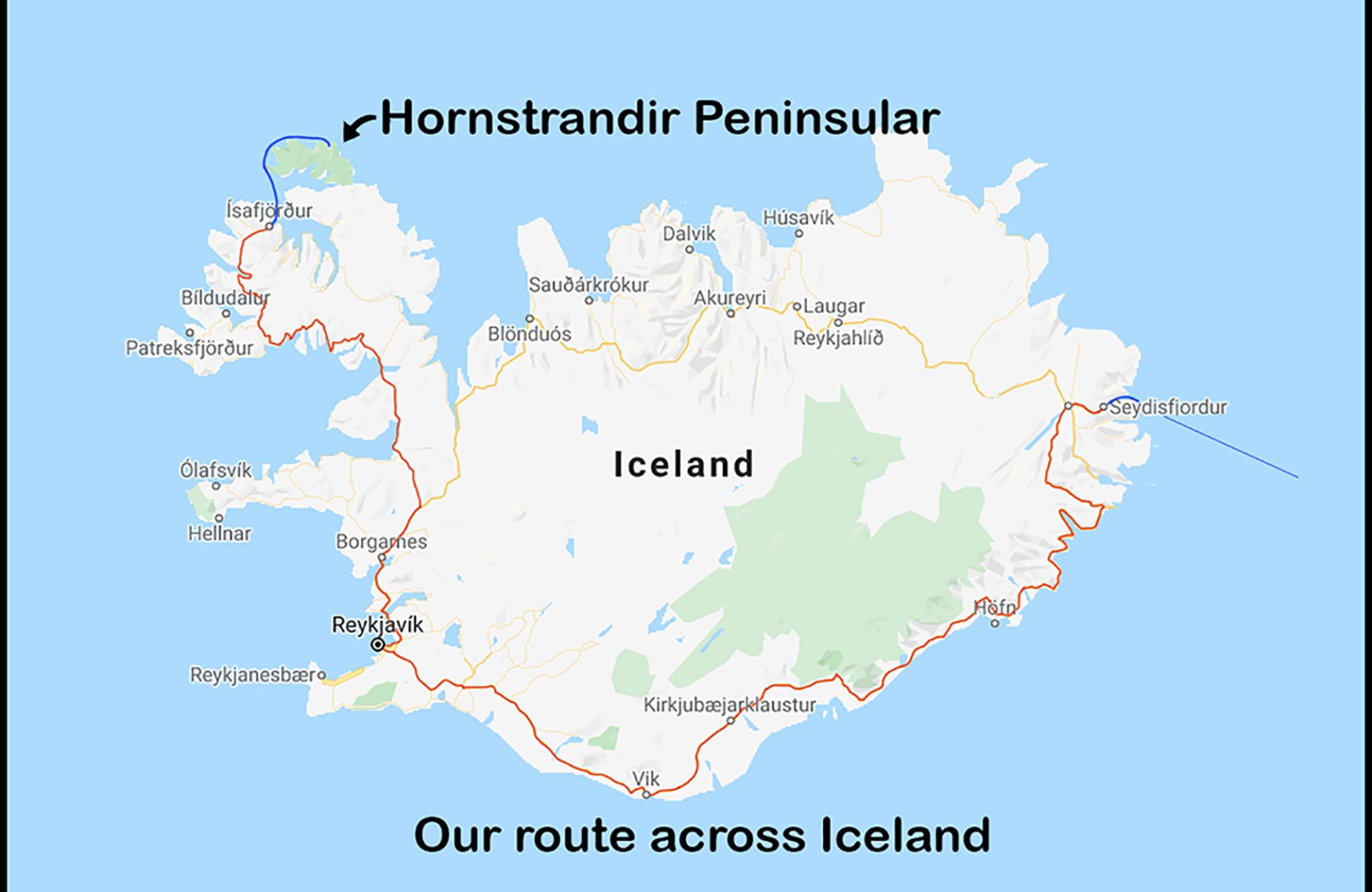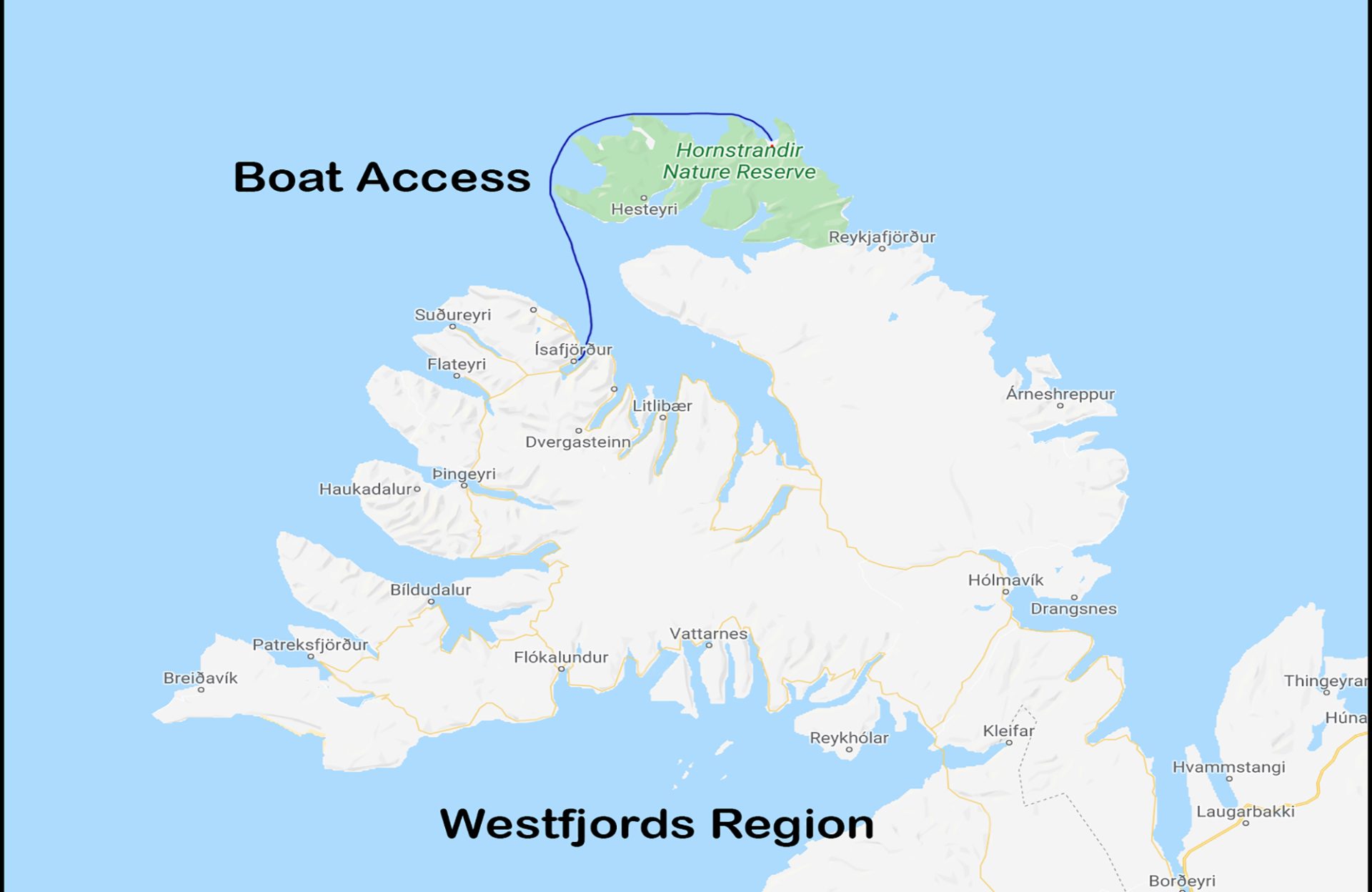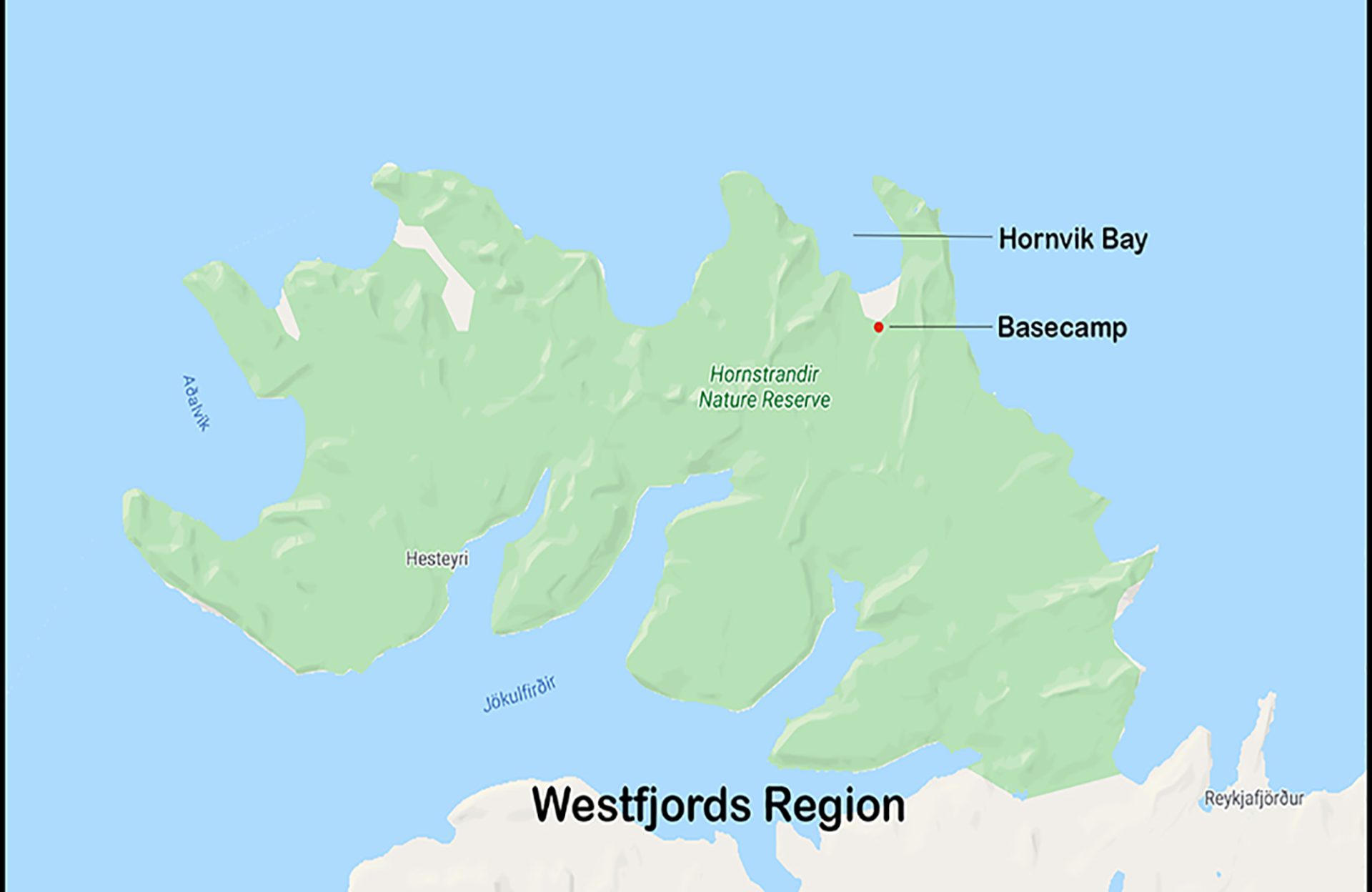 Our Approximate Itinerary:
Week 1:
We will start this 16 week overland expedition, wildlife film course, in the UK. Here we will go through all of the equipment necessary for our time overseas. We will inspect all of the personal clothing of the group to make sure it is up to the standard required. (Any equipment not up to standard can be replaced at this time.) then we'll demonstrate all of the camera / production equipment to you  (so you are aware what equipment we have with us and what you can do with it) and finally we'll inspect all of the camp equipment, to make sure we have everything to live comfortably on location for 12 weeks. After all of this we will undertake a bulk food shop as a group, before leaving for Europe.
Week 2:
At the end of the inspection period, we will drive through France / Belgium / Netherlands / Germany / Denmark to the ferry port of Hirtshals in northern Denmark to catch the ferry to Iceland. Undertaking any filming on route as required.
The Ferry Crossing:
The ferry crossing to Iceland will take approximatley three days. During this time we will look over maps, and discuss our plans as a group, and what we intend to do / film once we land in Iceland. We may also use some of this time to start working some ideas for a script.
Weeks 3, 4, 5, 6 & 7:
We will start the filming section of our overland expedition in earnest at the ferry port 'Saydisfjordur' on the far eastern coastline of Iceland. Travelling overland for several weeks across the southern half of Iceland towards Reykjavik (Approximately 600 km) stopping off at various locations to undertake filming as planned, until finally arriving in the area of Isafjordur in Westfjords. (A further 450 km north of Reykjavik)
Week 8:   Sea Kayaking in Westfjords
Whilst we are in the area of the Westfjords, we will undertake a 3 day Sea-Kayaking trip, (You do not have to do this if you do not want to) where we will paddle around the remote coastline, camping out over night in small camps we build upon landing.
You do not have to be experienced in Sea-Kayaking to undertake this part of the expedition, as Borea Adventures will be supplying a fully qualified Sea-Kayaking instructor, as well as all of the kayaking equipment necessary.  During our time on the water, we will also have some waterproof cameras with us for filming; and we are sure that this additional activity will add some very interesting footage of both the group kayaking and the landscape / coastline of Iceland to the final film, with some spectacular footage of wildlife, sea birds and possibly even whales.
Week 9:
We will then spend a week undertaking a partial edit our footage filmed from our Sea-Kayaking session, as well as preparing all our film equipment to go to the Hornstrandir Peninsula.
Week 10:   A week on the Hornstrandir Peninsular filming Arctic Foxes:
The Hornstrandir Peninsular lies to the north western tip of Iceland above the region know as the Westfjords. The area we will be filming Arctic Foxes in is so far north that it actually falls within the Arctic Circle, and is the only part of Iceland that does this. We will be spending approximately a week working and filming on the Hornstrandir Peninsular.
We will head to the remote bay of Hornvik on the northern cost of the Peninsular, which we will need to get to by boat (There are no roads or footpaths that go to Hornstrandir from Westfjords). We will stay in a specially built tented basecamp supplied and run by Borea Adventures, who, as well as supplying all of our boating transportation needs around the peninsular during our stay, will also be supplying a local wildlife guide to help us get the most out of our time in the area.
Weeks 11, 12, 13 & 14:
After leaving Westfjords and the Hornstrandir Peninsular, we will then have a whole month in which we can edit our final film, and film any additional footage we feel we may need, whilst slowly making our way back to the ferry in 'Saydisfjordur' for our return to Denmark.
Week 15 & 16:
We will spend this time traveling from Iceland back to the UK. Here we will undertake an 'end of course inspection' of all camera / camp equipment before the end of the course.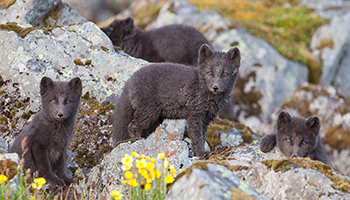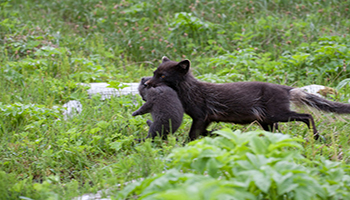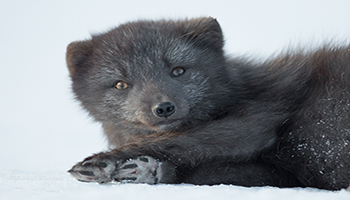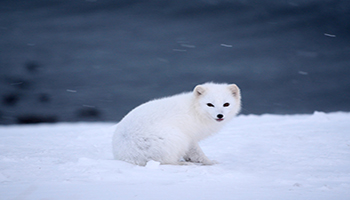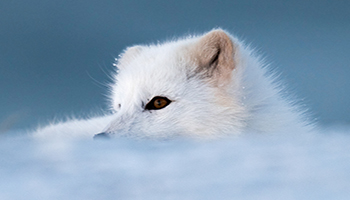 Course Details:
Dates:
This Course will run from:  Monday 15th May 2023 to Friday the 1st of September 2023.
(This is a practical course / expedition and you will need to be with us for the full 16 weeks of the course / expedition)
Closing Date:
You need to have booked and paid for this course, in full, before 1st January 2023, to be able to attend this course.
This course is booked on a ´First-come, First-served´ basis, so it is highly recommended that you book early to secure your place. You will not be able to book on this course after the closing date, as we will be using this time to secure special environmental access permits and film permits for our time in Iceland.
Previous Experience:
You do not need to have any previous film experience to attend this wildlife film course. (However, a basic understanding about how the principles of how a lens works, as well as shutter speeds and exposure will help you)
Although this is first and foremost a wildlife film course, we are more than happy to welcome camera professionals (Whether they work in wildlife film or not) onto this course; if they would like to join the course simply as a way of being involved in / gain the experience of, filming Arctic Foxes on the Hornstrandir Peninsular.
We can guarantee that this wildlife film course/ overland expedition will give you an unprecedented amount of time for you to improve your camera skills whilst working in a remote location, and you will be extremely hard pushed to find a wildlife film course of this standard anywhere else.
The 12 week long practical section of this film course will be located in Iceland, operating out of a series of basecamps situated across the island. Each day will consist of filming out on location and/or looking through rushes / or editing your film. We will spend the first few days instructing you in the use of the cameras as well as all our other items of production/grip equipment; as well as undertaking various filming tasks throughout the day. You will then spend the rest of the course honing your camera skills filming wildlife at different locations around the island.
The course will have a maximum of 8 students working from a Land Rover/s. The Land Rover/s will have a wildlife guide/driver/s, with the students occupying the rest of the vehicle. The Land Rover/s will carry everything logistical we need for our time in Iceland; as well as 4K cameras and a selection of lenses, plus a selection of various grip, tripod and support equipment. During the whole of your time in Iceland you will working out of a tented basecamp; which will have an electrical power supply via a petrol generator. For your comfort, each student will have your own 2-man mountain tent.
The course will take you through all the stages of:
•  Initial Program / Script Ideas
•  Brain-storming
•  Script Writing
•  Production Ethics
•  Presenter Lead Programming
•  Animal Observation & Tracking
•  Filming on Location
•  Audio Recoding on Location
•  Editing on Location
•  Production of a Final Film / Documentary
•  All necessary Logistics & Camp-craft
As part of your course fees we will supply you with:
•  All 4K camera equipment
•  All 'on location' production equipment
•  All 'on location' 4K editing equipment
•  All basecamp tents and equipment
•  All staff and instruction
•  All filming permits
•  All location and access permits
•  All Environmental & Scientific study permits
•  All vehicles and transportation overland required during your course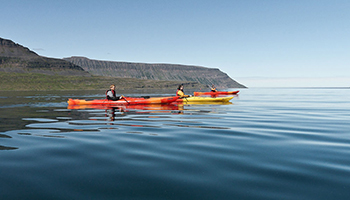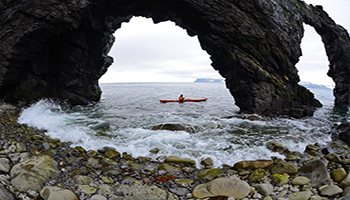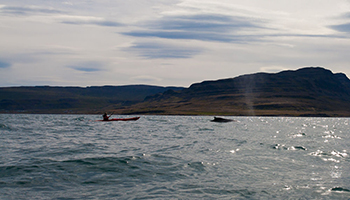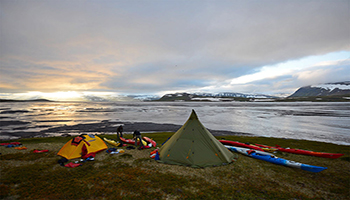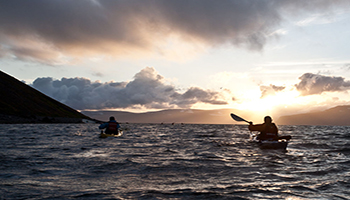 How to Book:
Course Fees & Equipment:
The course fees for this 16 week overland expedition to Hornstrandir in Iceland, filming the Arctic Fox on location in the Arctic Circle with all 4k film equipment included is £10,000 per student. (£90 a day)
Plus an Equipment Damage Waiver of £1000 per student.
You are able to pay for this course in instalments should you wish to, please email us for more information.
To pay the booking deposit or fully book on this course please see our Booking information
For more information on the Equipment Damage Waiver – Click here
Number of Students:
To minimise our impact on the ground in reference to the size of our base-camps, there is a maximum of 8 students permitted on this course.
Please Note:
•  All of the Wildlife Film School courses are booked on a 'First-come, First-served' basis, so it is highly recommended that you book early to secure your place.
•  You are not able to book after the 'closing date' of the course, 1st January 2023.
•  Flights to and from the UK are not included in your course fees as our students fly in from many different destinations around the world.
•  Please do not book any flights until after we have told you to do so. The specific dates of our environmental access permits may differ to the dates we have written on this webpage, which in turn my effect your flights by a day or two.